The road leads to

BINGO!

for the Holidays!

Winter can be a fun filled time as we prepare for the holidays and celebrate friends and family. As we move into the New Year, remember that no winter lasts forever, so make the most of this season that brings people 'indoors.' Create fun evenings at your bingos with the following themes!

Try some Christmas themed patterns to liven up your bingo as we prepare and enjoy the holiday season. Also, see if a local craft shop might donate a handmade holiday wreath as a prize for one of your bingos: a great way to promote your game and to promote a local business!

Consider incorporating some of these bingo patterns into your Holiday bingos: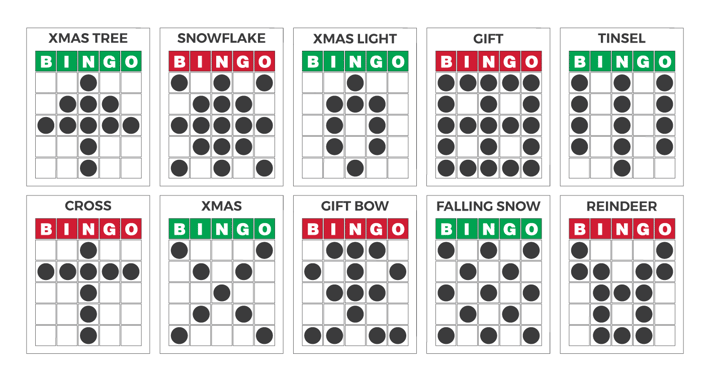 ---

Consider spicing up your Christmas bingo and instead call it Christmas

C-A-N-D-Y

:
C for Christmas, A for Angel, N for North Pole/Nutcracker, D for Decorate, and Y for Yuletide. Have a basket of candy (see if you can get a donation from a local store) and with each winner, allow them to pick out some candy from the basket! Candy canes would be a great addition to the basket! See how much fun it is for your players to now hear "North Pole 45" (for example) – and keep the game going at a clip so that everyone needs to listen carefully to the 'new' Christmas B-I-N-G-O – now: C-A-N-D-Y!

---



Ring in the New Year!
With the New Year right around the corner, consider hosting a special game to celebrate using the bingo patterns below. Perhaps a local business can donate a set of glasses – with which the winner can 'toast' in the New Year!


You might even want to consider a coverall game – and call it "MIDNIGHT" – undoubtedly the 'finale' of the evening – and consider a special prize for the winner of that game!
---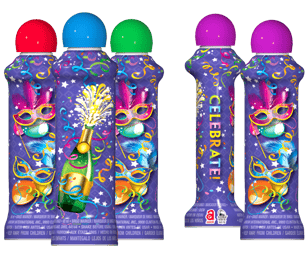 And don't forget to check out our "Celebrate" ink dabbers: a great compliment to your New Year's bingo event!
---

ADDITIONAL RESOURCES
Check our web sites for ideas as to how you can reinforce the cleanliness and safety of your venue – and welcome your players back – with confidence!

CHECK OUT OUR PROMOTIONAL MATERIALS: Download and print promotional materials from your computer. Choose from posters, flyers and postcards, add your organization's name. Also, includes safety signage you can use in your hall - printable PDFs.

BINGO GAME PATTERNS: View and download Arrow's bingo game patterns and probability. Find new game patterns to engage your players in the new years.
---
Download our latest Bingo Hall Ideas - Holiday 2022
---
Don't hesitate to ask your local businesses for gifts you can use for prizes! It's great advertising for your local business owners!