Holidays and beaches – and barbecues to greet us!
What would summer be without a visit to the beach? Celebrate the 'fun in the sun' season with any of the following beach-themed patterns. Consider hosting an event where you ask your patrons to come dressed in their most favorite summer activity – then by round of applause, award a free buy-in package to the most 'colorfully' dressed patron! Remember: this is not a swimsuit contest so modesty should prevail!

---

Celebrate Canada Day on July 1st!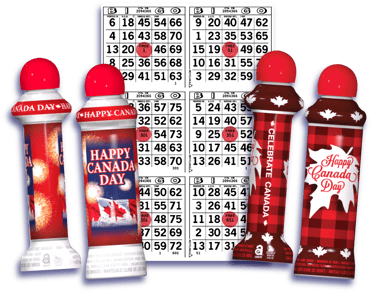 Celebrate the anniversary of Confederation with a Canadian-themed bingo event. Red dabbers and white bingo paper make a fitting celebration of the 'red and white.' Also consider both of our Canada Day dabbers – while supplies last. Truly, Canada Day is a time for celebration! Encourage your patrons to wear the 'red and white' and by a round of applause, award the most patriotically dressed patron a free buy-in package at your next bingo.
---

Celebrate Independence Day!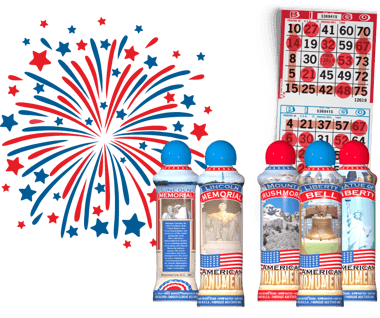 "Go Fourth!" Celebrate this holiday with a bingo themed event by inviting your patrons to come dressed in 'red, white, and blue.' Award the most patriotically dressed patron, by a round of applause, with a free buy-in package at a future bingo! Consider our USA paper along with our celebratory dabbers.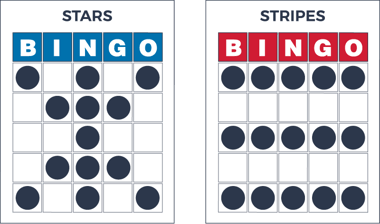 Try using these patriotic patterns: 'Stars' and 'Stripes!' For the stripes pattern, specify which lines or allow for 'any 3 across' combinations. Consider the prize to be something celebratory about July 4th! And don't forget to tap into local businesses for some prize donations – it makes for great advertising for them!
---

Don't forget about Labor/Labour Day!
You can easily show your support to others who have to work on Labor Day! Consider contacting your local hospital or fire station in advance, to see if they accept food deliveries. If so, ask your patrons to bake some goodies then deliver them to the organization, with a card saying "Thanks for all of the work that you do." Perhaps you can provide a free bingo game to those who bring in some baked goodies: more chances for a win! But don't tell your patrons ahead of time about the 'reward.' let this be a surprise! This is a great way to promote your bingo and who knows, you may even bring in some new patrons – with your thoughtfulness! Playing BINGO is a great way of giving back to your community!
---

Whatever you do with your summer bingos, have 'fun in the sun' – and don't forget to check out our fabulous array of ink dabbers designed to compliment any of your summer bingo events!


---
ADDITIONAL RESOURCES
Check our web sites for ideas as to how you can reinforce the cleanliness and safety of your venue – and welcome your players back – with confidence!

CHECK OUT OUR PROMOTIONAL MATERIALS: Download and print promotional materials from your computer. Choose from posters, flyers and postcards, add your organization's name. Also, includes safety signage you can use in your hall - printable PDFs.

BINGO GAME PATTERNS: View and download Arrow's bingo game patterns and probability. Find new game patterns to engage your players in the new years.
---


Download our latest Bingo Hall Ideas - Summer 2023
---
Don't hesitate to ask your local businesses for gifts you can use for prizes! It's great advertising for your local business owners!