Nevada Gold II is An Instant Winner for Both You and Your Players

In our "new world" of social distancing and contactless transactions, now is the time to invest in an additional salesperson!
Leave no stone unturned! Consider the Nevada Gold II ticket dispensing machines to help you sell pull tab tickets! An investment up front will undoubtedly pay for itself in short order as the Nevada Gold II allows for 'contactless' purchase of tickets, and a variety of tickets. Each of the four or eight columns inside the ticket dispenser can hold up to 1,000 tickets. You can have four or eight types of tickets, one for each column and multiple denominations: 25¢, 50¢ and $1.00 tickets – one for each column! Additionally, you can dispense event tickets next to instant win tickets! The Nevada Gold II is reliable on so many fronts from its sturdy construction to its durability, accountability and report generation!
How to Attract Players to Your Nevada Gold II Ticket Dispenser
Advertise the games you are playing!* Use flares or other advertising material you have! Review all the high traffic areas in your venue (restroom traffic, canteen traffic, smokers' section, players waiting in line (practicing social distancing) – and sell your tickets accordingly! Don't miss an opportunity to promote your pull tab ticket sales! Make your players aware of the charity or charities you are supporting and all the good that they do in the community. For example, Volunteer Fire Departments have purchased a new fire truck costing $300,000 with the proceeds from pull tab ticket sales.
Nevada Gold II LED Colorful Topper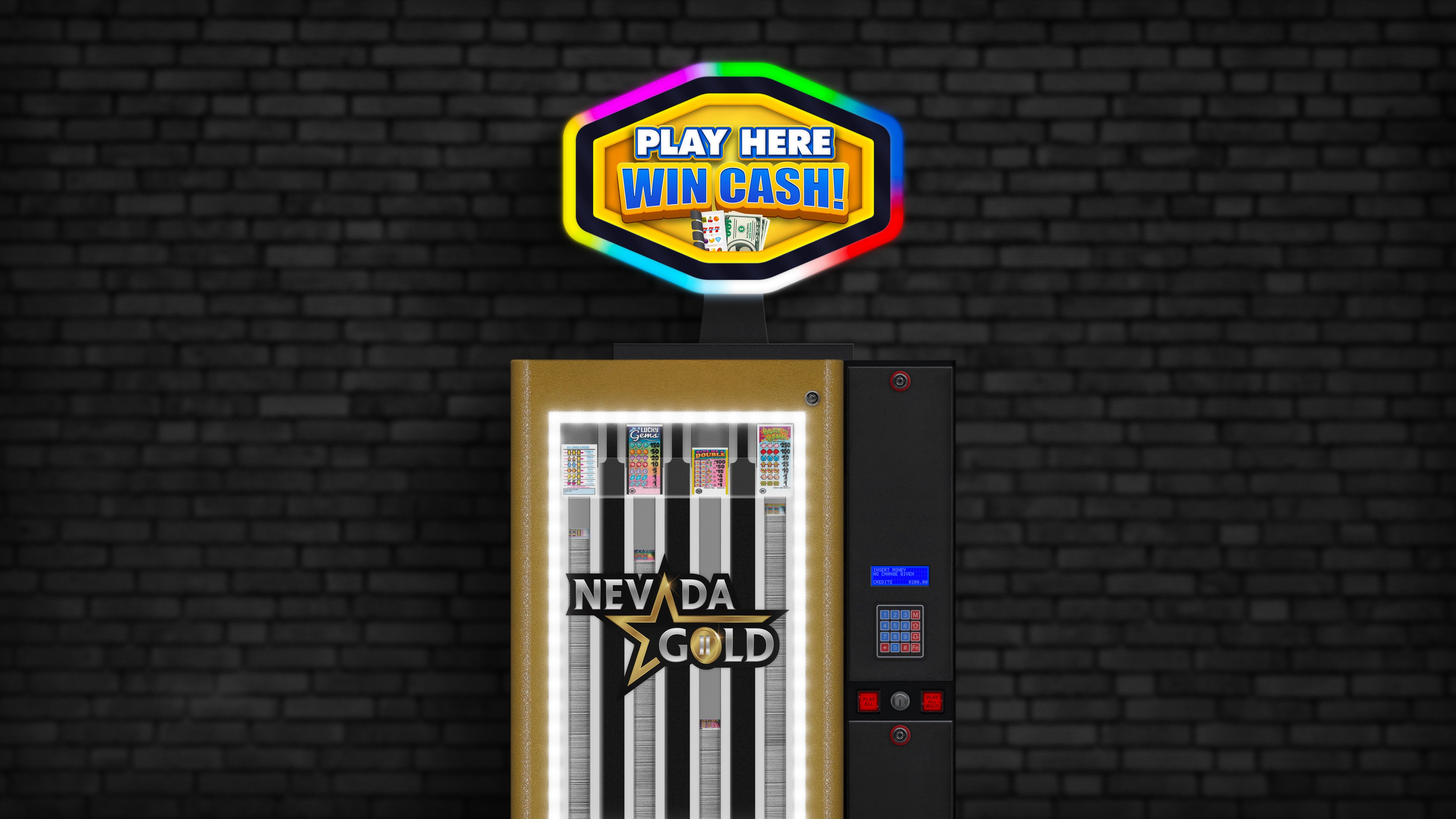 If legal in your state, install Arrow's LED header that features seven unique colors with nine different lighting sequences. The header is simple to set-up, place the magnetic mounting base on the top of the cabinet and plug it in!
Concerned that players may not have the money to spend that they did pre COVID-19?
When disposable incomes start to shrink, money becomes tight. 25¢ & 50¢ games provide your players with a less expensive alternative to the traditional dollar games.

The more 25¢ & 50¢ pull tab tickets a player opens, the better their chances are of becoming a winner!

The more tickets a player can buy for their dollar, means more entertainment for the same amount of money. More tabs to pull, more chances to win, and more fun!
Arrow's 25¢ & 50¢ pull tab tickets offer your players more bang for the buck.
Cash is the oxygen of your charity! Breathe some life back into your pull tab ticket sales! Pull Tabs are a great way to re-engage your players in these uncertain times. Consider installing a Nevada Gold II to quickly generate revenue for your bingo hall, bar, or club.
View Arrow's Nevada Gold II online by clicking here.
*Please check with your state & local gaming laws and regulations regarding advertising.
The laws that determine the legality of these products change constantly. It is the responsibility of the buyer to determine which products are legal in any given area.