Your Patrons Can Stay Close...But You Can Go Far – With Your Creativity!
Nonprofits that rely on charitable gambling to raise money have been hit hard by the closure of bingo halls, clubs, restaurants and bars. Many states have begun to allow these venues to open. Take advantage of your outdoor patio space or parking lot by creating a pull tab bar!
A bar in Minnesota via their Facebook page, posted "With a little outside the "box" thinking we are getting the pull tab situation figured out!" This is a great solution to selling your pull tabs outdoors if you have outdoor seating. Set-up a pull tab bar at your bingo hall, club or bar on the patio.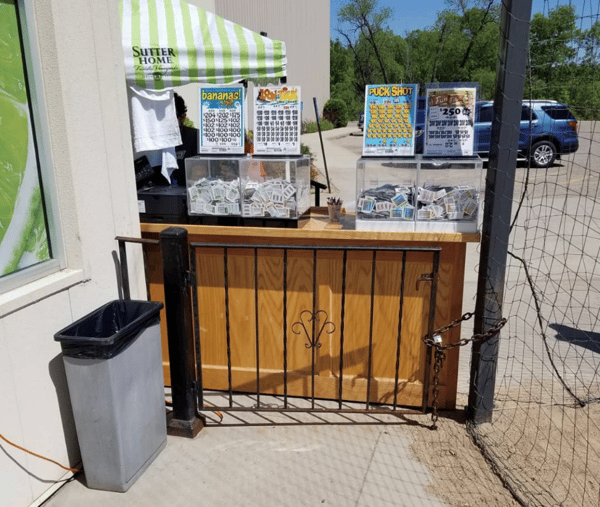 Photo Credit Fat Daddy's Bar & Grill
Another idea is to create an outdoor pull tab tent in your parking lot. This is a perfect solution when holding a parking lot bingo and using pull tabs to help increase your revenue.
What a great way to emphasize the appeal of staying local and how important it is that we need to support local business and charitable organizations. Summer outdoor pull tab sales will keep your customers entertained and engaged. Offer your players 25¢ and 50¢ pull tab tickets as this will provide longer play and more chances to win! Outdoor patio guests will love to watch players winning and winners help create new pull tab players!
Consider having an outdoor pull tab themed evening event, in which pull tabs play a big part in your package sales or hall activities. Read our blog on, "Re-energize Profits in Your Bingo Hall with 25¢ & 50¢ Pull Tabs".
Selling tickets outdoors is a great way to increase your pull tab ticket sales at your bingo hall, club or bar! So, give it a go – and 'try the great outdoors'!
Please check with local gaming laws and regulations before setting up an outdoor pull tab booth.